PRODUCTION NOTES
"MEETING THE PRIEST"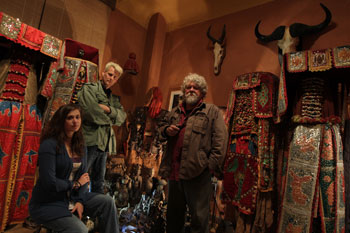 Henning Christoph, the director of VODOU HEALER, met the American voodoo priest Papa Joe nine years ago through the internet. Papa Joe found Christoph's voodoo museum "Soul of Africa" on the web, and asked Christoph questions about African Vodun via email, and about the altars and fetishes that he saw on Christoph's pages. From this first contact, a lively exchange of emails came into bloom. One year later on his annual trip to visit his family in Virginia, Christoph decided to visit Papa Joe in Raleigh, North Carolina. Papa Joe invited Christoph to stay at his place for a week to see and experience the "American voodoo". Christoph felt like he was visiting a Disneyland version of what he knew of voodoo from West Africa. Everything was so different than the vodun Christoph had documented for decades.
From then on, Christoph visited Papa Joe's Planet of the Gods every year for a week during the time the main ceremonies were held. During these visits Christoph would inform Papa Joe's congregation on the African gods and the related ceremonies. Joe also joined Christoph on several visits to Benin and Cameroon.
Trust and friendship grew between Papa Joe and Henning Christoph. Christoph proposed the film idea to Papa Joe. He liked it right away and accepted. The film VODOU HEALER is the first time authentic Afro-American voodoo is documented. It was possible because two men, one a scholar, the other a preacher, one white the other black, trusted and respected each other, and became true friends.
"THE FIRST CEREMONY"
One day while Papa Joe had his usual "office hours" a very nervous lady twice the size of Christoph was brought to the temple. The woman was hysterical because she saw a black snake in her kitchen. In hoodoo (Congolese conjuring) this is a sign that someone put a "root" (black magic) on her. Papa Joe asked Christoph to watch the lady so that she would not run away. Christoph thought to himself how he would never ever be able to stop this 250 lb woman if she wanted to leave, but then suddenly Papa Joe opened the door to a temple . The walls were painted black, a red cross was hanging upside down, and a bookshelf filled with skulls was standing next to one wall. Christoph was asked to come in and sit in front of the bookshelf and light a cigar. Papa Joe was positioned in the middle of the room with both arms behind his back holding a black rooster and a knife. The lady was asked to come in. She was very nervous, muttering "But I can't see blood". Papa Joe pulled out the rooster, and cut off the rooster's head with the long knife. He held the rooster over her head. The blood was dripping down her face, she screamed "Oh Jesus", and fell on top of Christoph, who was still sitting on the stool smoking a cigar in front of a bookcase filled with skulls. The stool tipped, and Christoph fell backwards against the bookshelf with the skulls. Christoph, cigar still in his mouth, smothered by two gigantic bosoms, fighting to breathe, and smelling his beard burn got one word out "Help". Papa Joe's two Mexican assistants pulled the lady off Christoph, and Joe's only comment was "well, I guess that did the trick". He then sent Roberto, one of his assistants to get some hamburgers, fries and cokes at McDonalds for everyone. While eating his share, and still feeling shaken by this experience, Christoph thought to himself that he has to work this into a film, and he would name it "Magic and McDonald's"- which turned out to be the starting point for VODOU HEALER.